With social distancing requirements and in-store shopping limitations still widely in place, retailers are faced with the challenge of drawing customers out of their homes and making them feel safe while leveraging new opportunities for engagement. In this blog post, Gilbert's Architectural team explores emerging trends in retail and how retailers can effectively adapt to a changing market.
Leveraging the Storefront Experience
One of the major changes in the shopping experience is that the curbside/storefront has taken on a much more significant role as consumers rely more on curbside pickup and long lines become the norm. However, waiting in line to enter a store doesn't have to be boring. The storefront is the first touchpoint a customer has, so this should be used as an opportunity to engage, inform, and generate excitement about entering the store.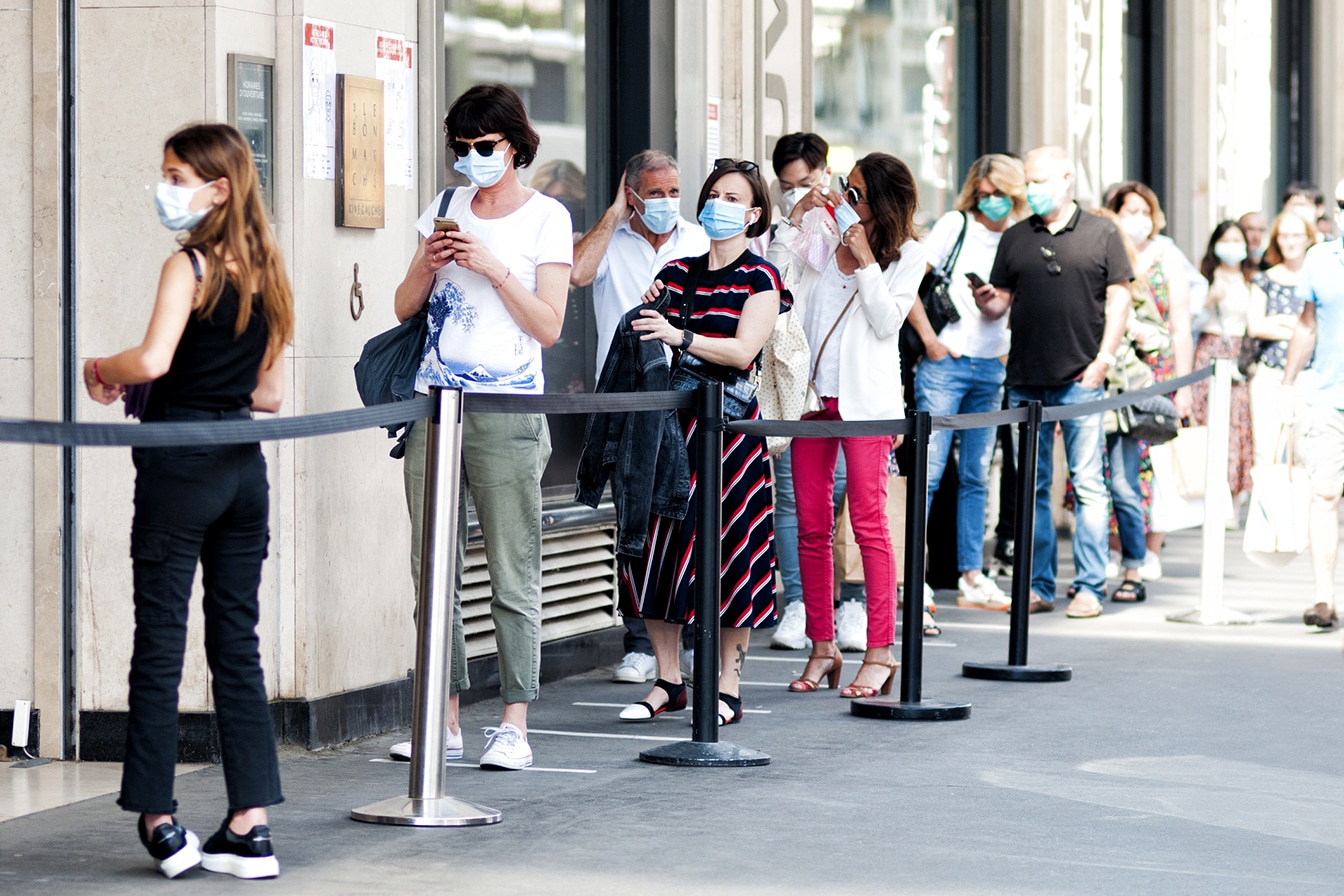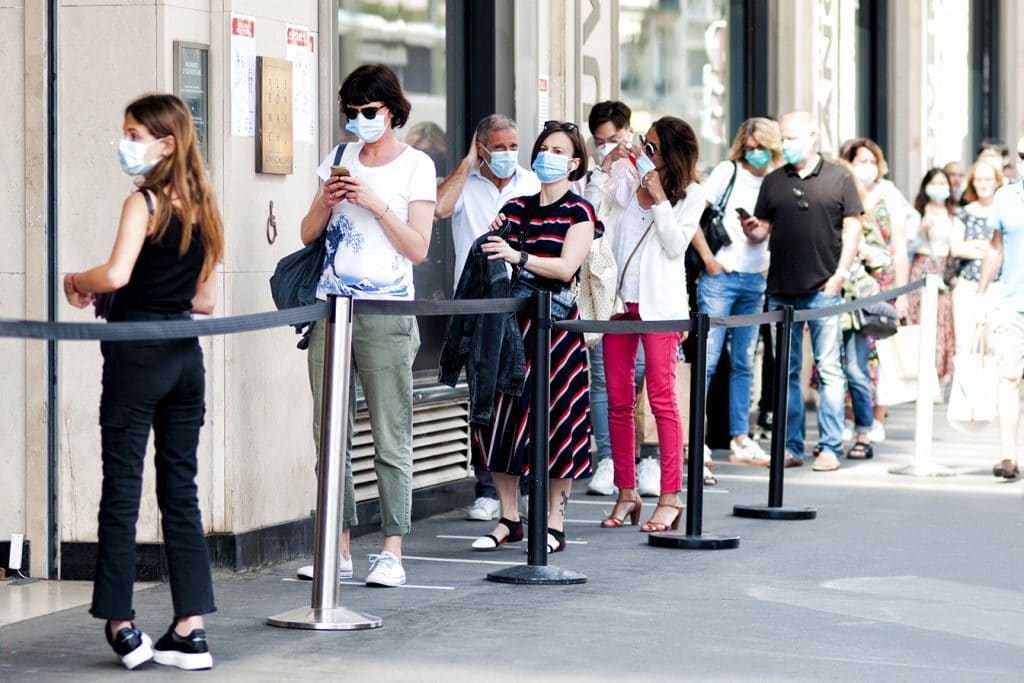 The storefront can be used to tell your brand's story to create a deeper connection, inform customers of what to expect once they're inside, and even leverage technology to allow customers to shop before they enter the store. Product sampling kiosks can let customers try your products before they're inside, and screens can be an effective way to communicate brand/product messaging or important safety information..
While not new, QR codes have recently taken on a new life as a safe, contactless way to browse and shop products. QR codes can not only create a new touchpoint while customers wait in line, but can be used to shop directly from store windows during off hours. The hospitality industry has already jumped on the QR code wagon: the 1 Hotel Brooklyn Bridge, located in DUMBO, asks guests to scan QR codes to view menus and order food and drinks at their rooftop.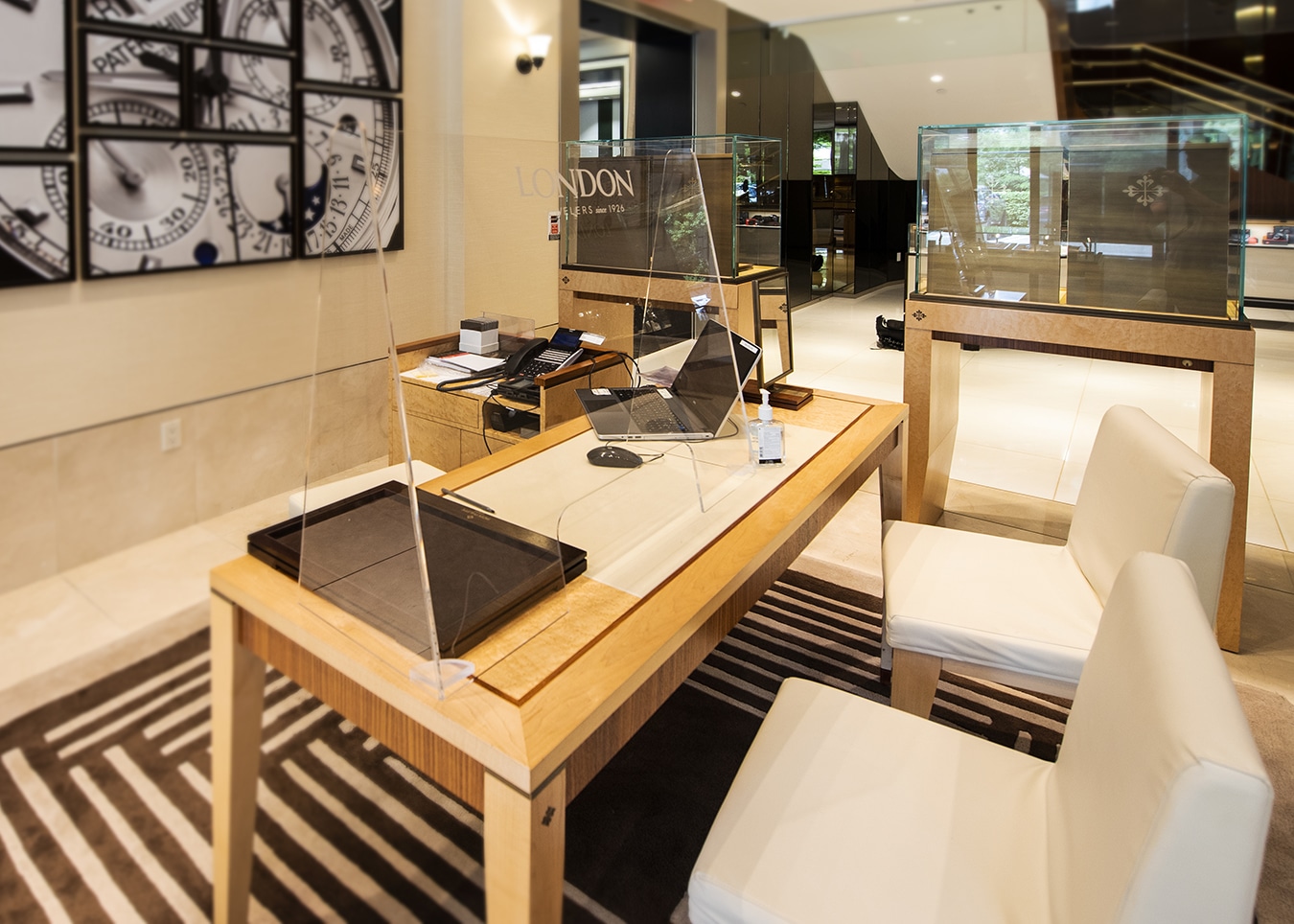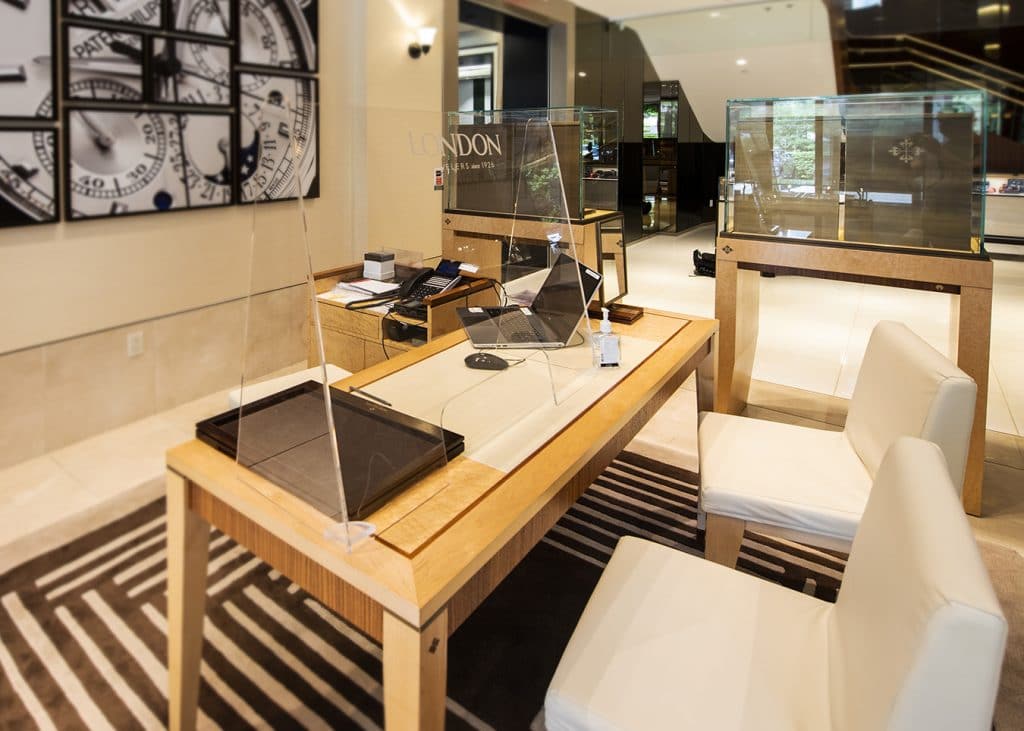 Rethinking Store Layouts & Design
The immediate response of most retailers was to install cost effective safety solutions such as acrylic dividers to protect customers and employees during the shopping experience, but as the pandemic persists, stores are considering more thoughtful changes that create safe yet enjoyable experiences. For example, material selection in store design is now focusing on safety, not just aesthetics and function. Porous surfaces like wood are taking a backseat to easily cleanable materials such as stainless steel and copper.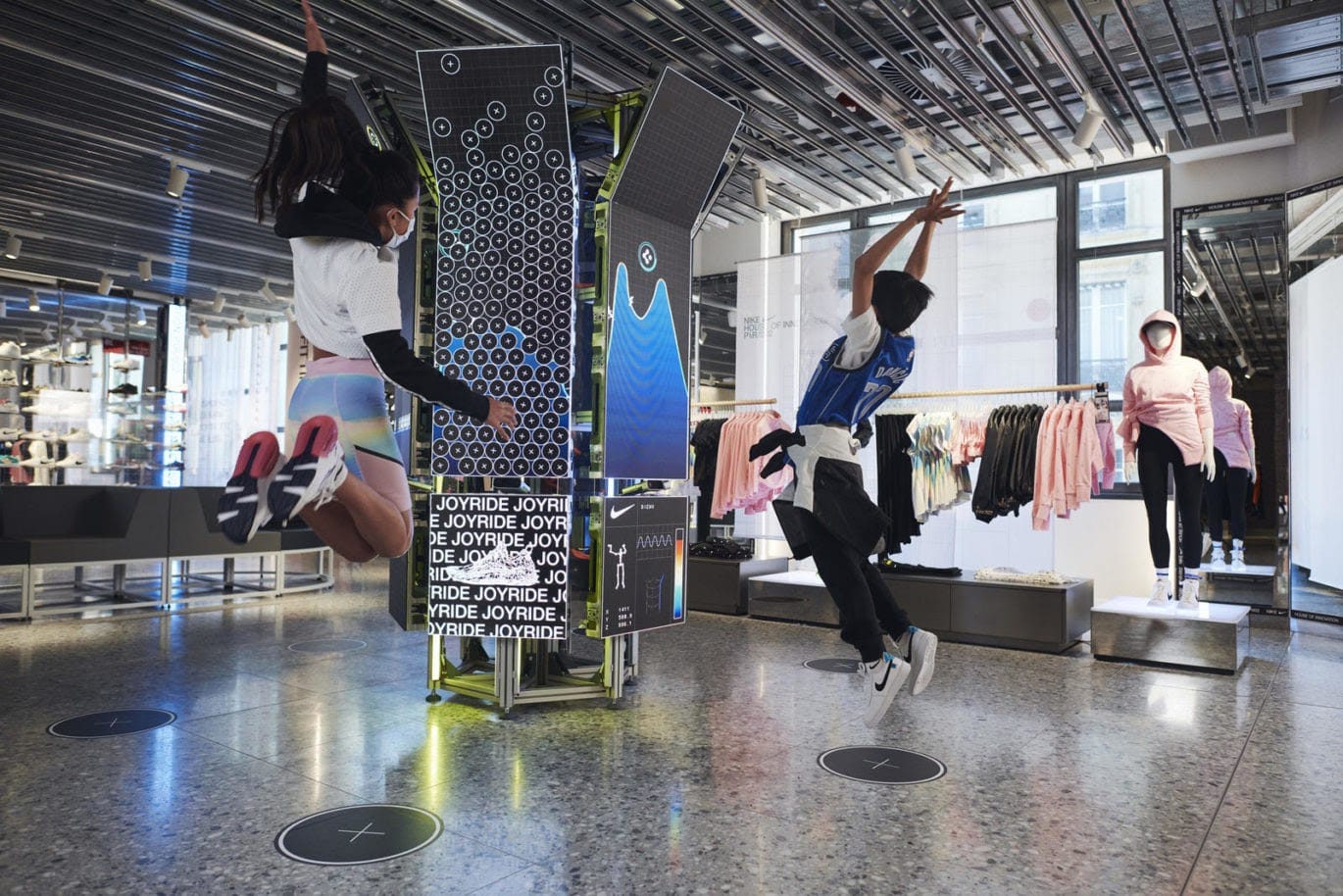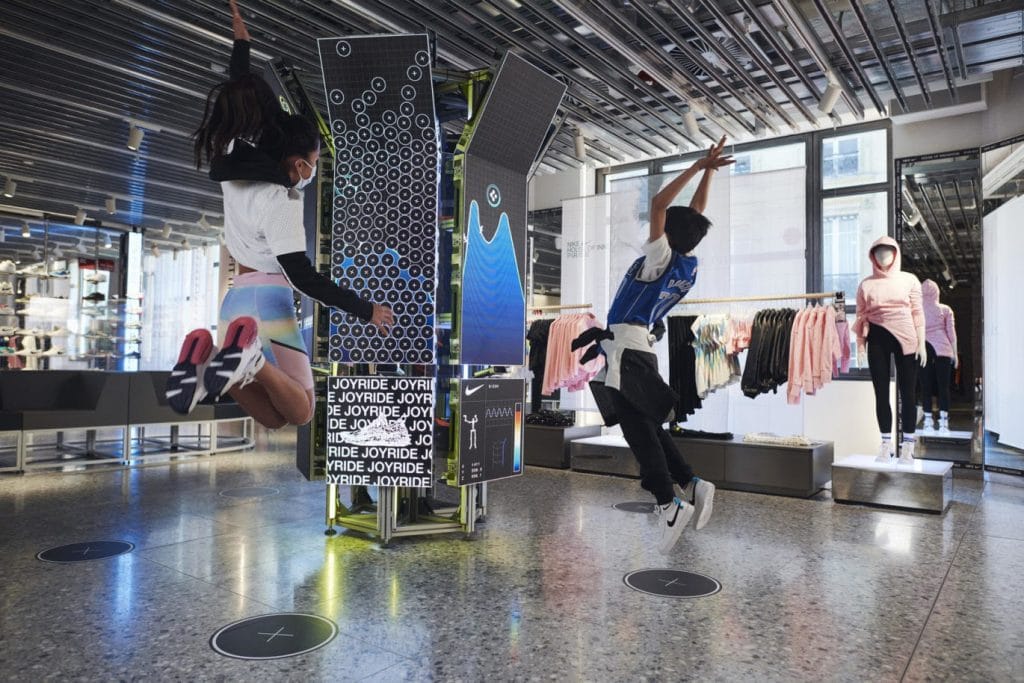 Stores are also rethinking their layouts to limit physical contact and provide a seamless shopping experience for customers. Historically standard parts of the customer journey – browsing through products, tight dressing rooms, and lines at checkout – all need to be reconsidered. The Nike "House of Innovation" in Paris features a footwear try-on with limited seating, hand sanitizer stations throughout, and store lighting to manage traffic flow and ensure people are remaining six feet apart when waiting in line.
Using color or themes to create zones and help customers safely navigate your store are important when considering the design of your store. Flexibility to ease the shopping process, such as mobile reception/checkout counters and sanitizing carts can also decrease store congestion and keep customers safe as they finish shopping.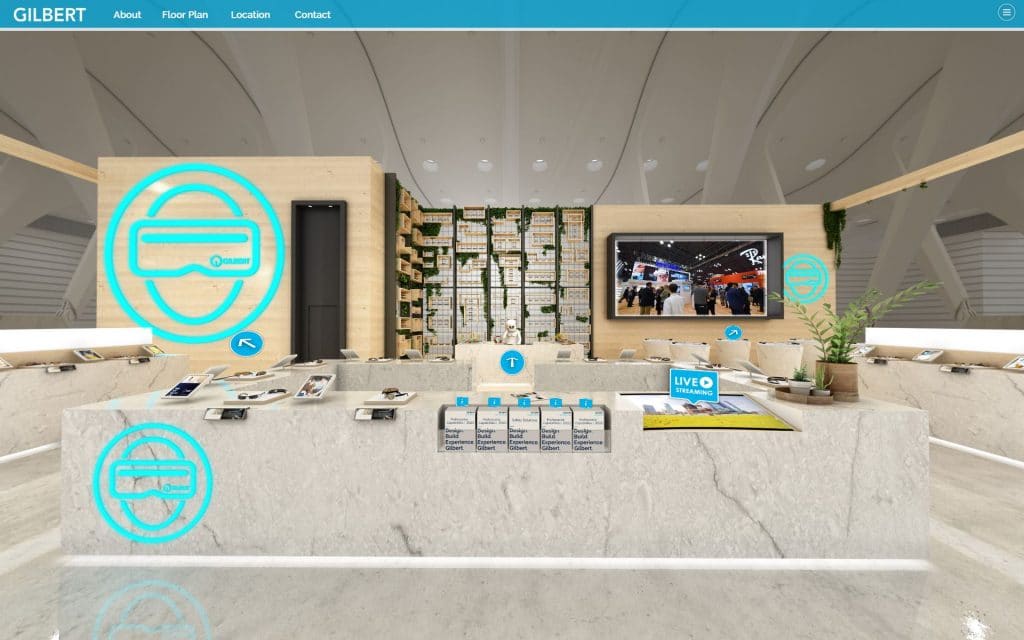 Enhancing Your Online Presence
The challenge to coax customers back to physical stores is a significant one, and many consumers still feel more comfortable shopping and exploring from the safety of their home. Virtual experiences have been emerging for some time, but their relevance has skyrocketed in the past few months and have proven valuable as part of brands' omnichannel strategies. Brands are using virtual product launches, showrooms, and events to foster a deeper connection with customers through more interactive opportunities for engagement and exploration than traditional ecommerce sites. These virtual experiences allow brands to reach a wide audience without the travel requirements or risk of contact.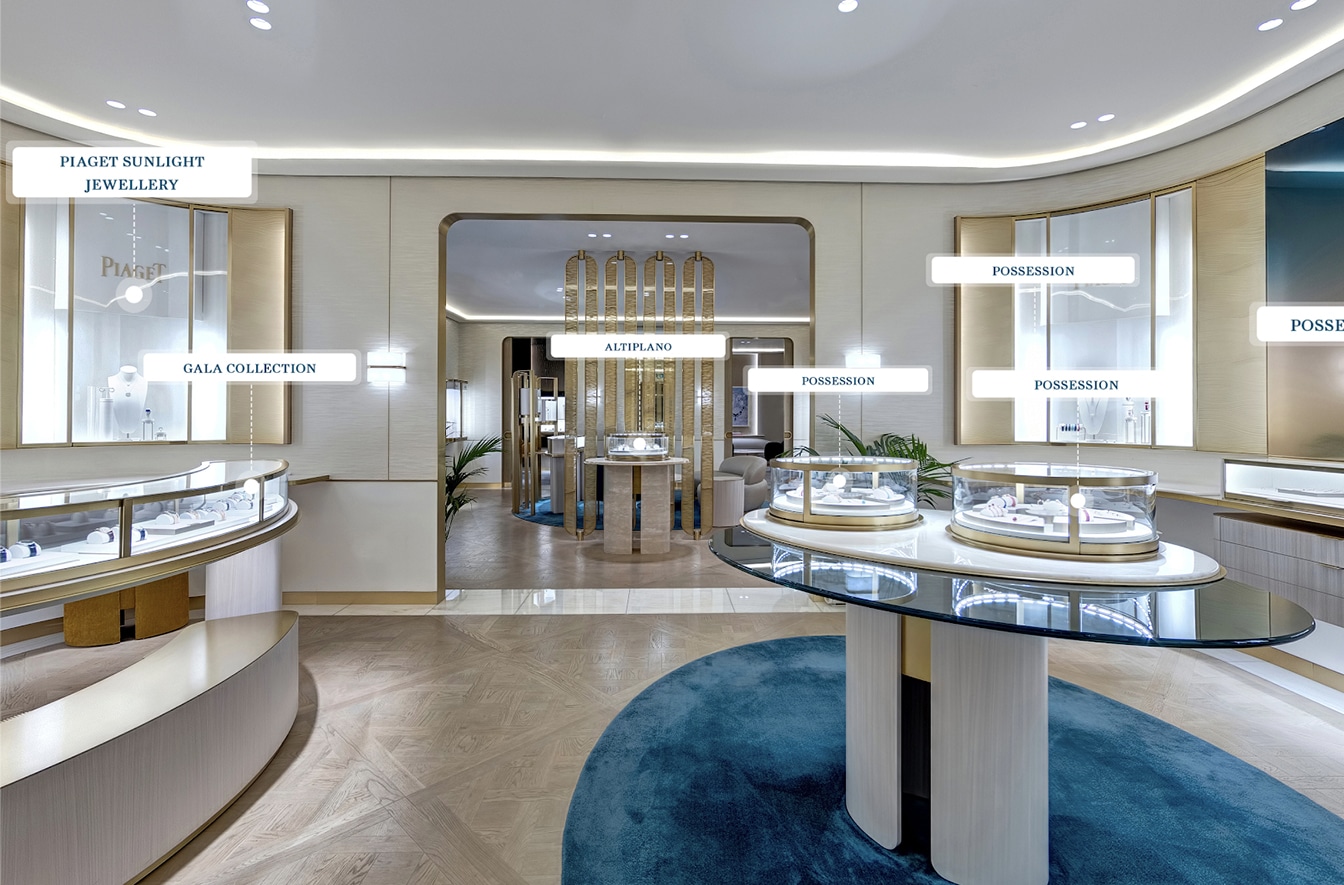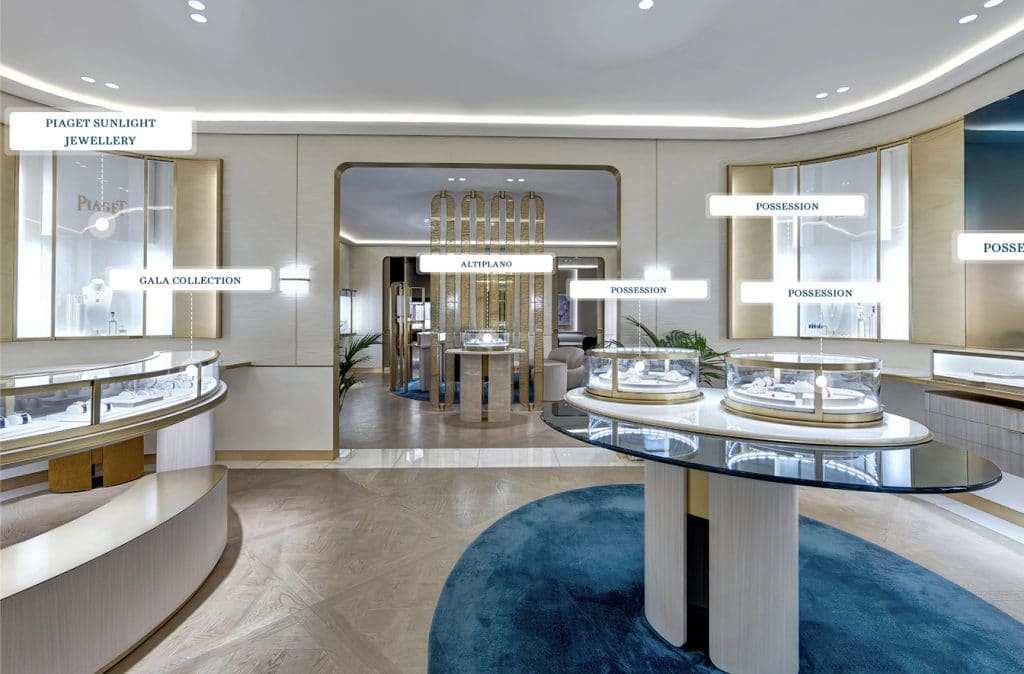 Brands have also invested in app upgrades and technology to make shopping both online and in-store easier. Home Depot's app, ranked as the top retail mobile app in 2019 by Forrester, features wayfinding capabilities that allow users to quickly search products and identify their exact location in the store with a navigable map.
Summary
As we navigate the current state of retail and plan for the future, it's essential for retailers to rethink the traditional shopping experience. Brands should leverage new opportunities to engage with customers, such as the storefront and curbside pickup, while optimizing store layout for a hygienic and efficient journey. Meanwhile, enhancing the online experience to cater to consumers spending more time online at home has also proven to be an important part of brands' omnichannel strategies. While we don't know what the future of the pandemic will be, customers will be much more scrutinizing and keep their focus on safety for some time, and retailers need to respond accordingly.
About Gilbert
Gilbert is a design, experiential marketing, and construction firm based in New York. Learn more about our virtual services and explore our demo experience here. Learn about our retail, hospitality, corporate design and construction services here.